We're smitten over our readers and love interacting with you on our Facebook Fan Page. We want to reward you for helping us reach our goal of 5,000 fans on Facebook. As a thank you for introducing us to your fabulous friends we'll be giving away multiple sets of Project Nursery boater's totes. Each boater's tote is made from 100% Cotton Canvas. Designed to be both lightweight and durable, this large PN boater's tote is perfect for traveling or every day use.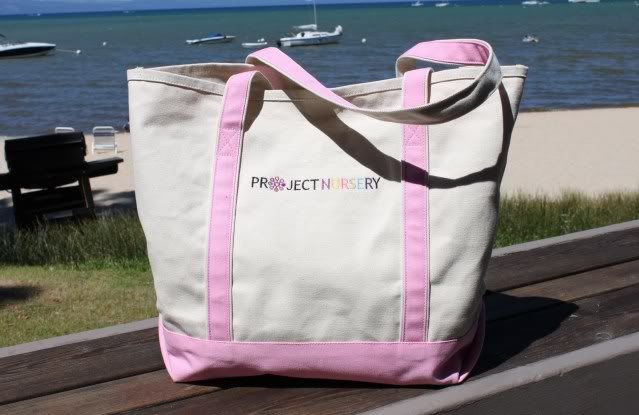 WIN IT! Visit our Project Nursery Fan Page and push the "Like" Button at the top of the page if you haven't already. Refer a new friend to "Like" our Project Nursery fan page too. Ask your friend to post a comment on this blog post saying "I'm a new Project Nursery Facebook Fan. My friend (your name) referred me!" Contest ends September 30th at 11:59 PST.
EXTRA ENTRIES! There is no limit to how many friends you can get to join. The more friends, the more entries!
Each time we reach 500 new friends we will randomly choose a set of buddies from those comments to receive Project Nursery Boater Totes! The first set ($70 value) will be given when we reach 3,500!
Want one now? Buy it here.
SaveSave