Perceptive party hostesses took their cue from the nursery's accent wall to create this fun, vibrant orange and blue themed baby shower. We just love the extra touch the cloth napkins bring to the decor and that sandwich recipes looks mighty tasty!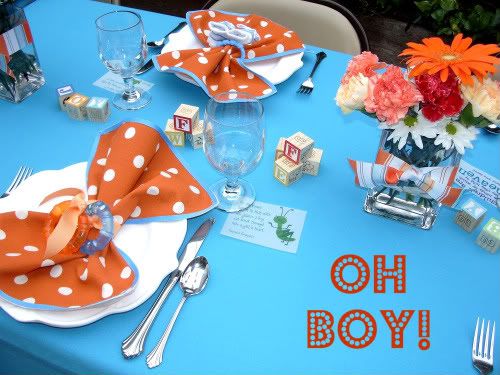 Child's name: It's still a secret!
Age: Due date July 29,2009
Location: San Rafael, California
What is the theme of the party and why?
It was a baby shower for Marika and Eric's first baby. It's a boy! The accent wall in the nursery is a bright orange, so we took our color cues for the shower from that.
Did you find inspiration from any particular photos or websites?
My mom and I are just kind of creative types and like planning all aspects of a party.

Please share with us where you purchased your supplies.
The lanterns were from paperlanternstore.com. My mom found the napkin fabric at Warehouse Fabrics Inc. and she bordered them with blue ribbon.
What was the most creative item you made for the party?
Using the clips for toys from the baby store and adding small baby items and toys to them made great napkin rings. Tyler Florence's fabulous chicken salad sandwiches with cranberry sauce, brie (pasteurized, of course) and thin slices of apple–amazing! The clothesline decorations–onesies, blankets, socks, toys, etc. were a gift to the new mom. And she may even use a few of the lanterns as a mobile over the baby's crib in his new nursery.
Do you have any advice or tips for someone inspired to throw a similar party?
It's always hard to come up with a good game. We played a baby version of "The Price is Right." Mom to be, Marika, displayed 8 items from the baby department and guests had to guess the prices. The guest with the total of all 8 closest to the cash register receipt was the winner of the prize.